Request a Couple's Massage Appointment
For most of us, it can be tricky to devise a creative way to spend the day and keep our romance alive. I mean, who hasn't planned something we thought was romantic on V-day only to have it fizzle into a Yawn Fest in the end? We've all been there, done that.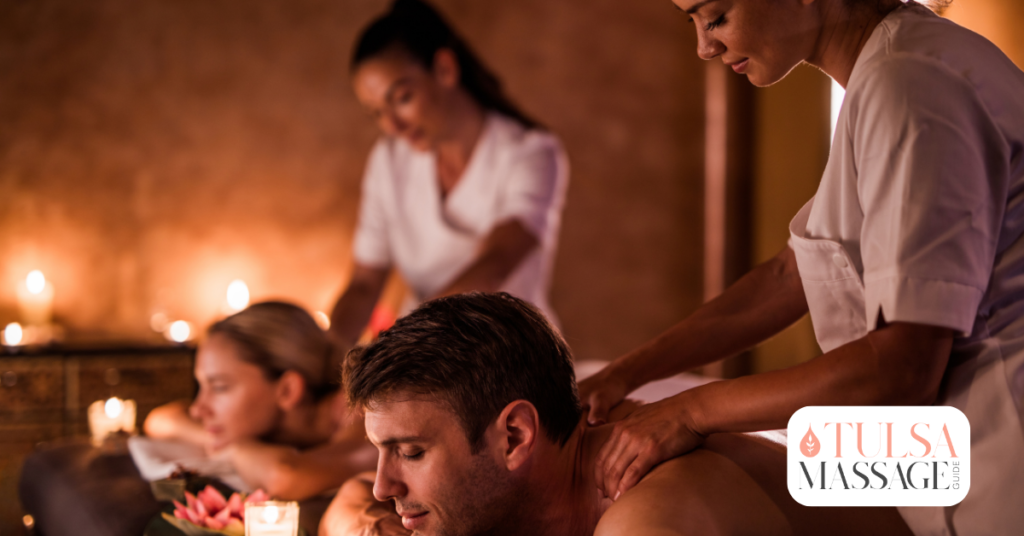 Couples Massage
The problem is not thinking creatively enough. We must brainstorm and add some spice to our love repertoire, especially for Valentine's Day. Here are some fresh ideas I found that could help:
Get a side-by-side Couple's Massage at Spa Lux. A relaxing foot bath before the massage, soft music, soft lights, soft drinks, and caressing massage. I promise it will be a night to remember.
What to expect when you come for a couple's massage.
A Couple's Massage is when two people enjoy massage in the same area (usually in one large room with two massage beds and two therapists). You can expect a few extras with this type of massage, as spas typically do their best to improve the experience. For example, SPA LUX offers a relaxing foot bath in the relaxation lounge before the couple enters the massage room.
Two's Company
Many spas offer treatments à deux so that spa-goers can share a pampering experience with a significant other. But a couple's massage isn't just for romantics—mother-daughter duos and best friends may also enjoy side-by-side services.
This form of massage can offer a double dose of benefits for couples. The tandem treatment invites couples to get a bit closer and reconnect. It can enhance intimacy and teach each partner how to care for the other. At SPA LUX, you can add an instructional session allowing the couple to get in sync by learning massage techniques on each other with the help of a professional therapist. Pampering and rejuvenating facials, massages, and other treatments in a private day or a full day can make up a whole spa package for couples.
Before you book a Couple's Massage
Brush up on your spa etiquette before you and your partner book your appointment. For many, a couple's massage maybe your significant other's first visit to the spa. And although a visit to the spa should be pleasant, it may be everything if it's your first time. But if you don't know what to anticipate, take note of the following spa procedure guidelines to help you relax:
For many guests, nudity may very well be the most nerve-wracking aspect of spa-going. Remember, though, that maintaining guest modesty is a key priority for most therapists in the U.S. At SPA LUX, all licensed therapists will keep typically required draping protocols to make you feel as comfortable as you want.
Male or female therapist?
It's your call. Spas make every effort to accommodate guest wishes in this regard. Still, making advance reservations is recommended, particularly during peak hours.
Speak up (if you wish). Couples can feel free to converse during their massage or stay silent. It's entirely your preference.